Services for exporters
In the bookmark 'services for exporters' there is information about companies operating in such industries, whose services or products are essential for the proper functioning of the companies providing export services.
This information is given in a clear and logical way, and it is grouped in10 main industry sections thus giving the possibility of specifying the searched localization.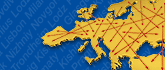 Help needed ?
If you have not found the desired product, company, service or the searching results are not satisfactory for you, do not hesitate to contact us and tell what you are looking for or what you need. We will send your inquiry directly to the interested companies.

Write to us