Recommended links
Having an interesting catalogue or a web page is not everything. It is far more important to be visible on the global search engines as well as thematic websites (such as e.g. www.poland-export.pl).
Our website gives you the possibility to promote your catalogue or a web page through adding the address of your web page to the list of the recommended links on our website (which is free of charge). The only condition for inserting your link is that you insert our return link on your web page or an Internet catalogue.
Should you be interested in such an exchange and receiving information about the details, contact us through the contact form.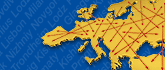 Help needed ?
If you have not found the desired product, company, service or the searching results are not satisfactory for you, do not hesitate to contact us and tell what you are looking for or what you need. We will send your inquiry directly to the interested companies.

Write to us